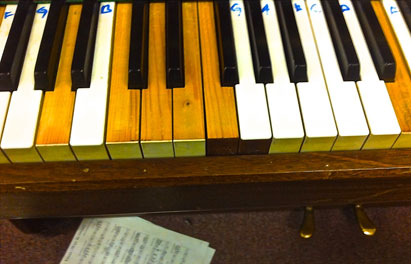 Keep this in mind if you intend to become the owner of a second-hand piano:
Do not take a piano just because the furniture is beautiful, you might regret it!

Visual inspection should take place "without heart".

The general impression is that the piano is attractive!

Look at the keys…

Sitting at regular gap?
Is the key coating in good condition? 

This reveals if the instrument is standing in a wet / extreme dry conditions and also received rough treatment.

(Damaged coating ends)

Is t

he instrument is horribly out of tune? (A laminated wood vocal nails sitting in and holding vocal nail on the spot), damaged the surrounding environment.
If so, the piano in the worst case is impossible to tune!

In less severe cases, the piano dropped during a change of atmosphere for a short time.

The cost to fix this normally exceed the piano's value!

Means, among other things.

Replacement of new strings and several tunings before they are stretched.

Do the pedals work?

Are there any squeaking or other noises?

This may testify to the rough transportation or relocation.

Noise may be due to parts that have the task to dampen the noise from the mechanics are missing or have fallen away.

Open the lid at the top and watch the hammers and hammer felt.
Are the

hammers sitting straight or periodically similar to a Mikado?

Is the blanket white and clean?

If there are grey dots then the piano has

begun to go moldy and this reveals that the piano has been standing in a damp environment, eg in a garage.

Quality Mechanical Engineering is preferred, check for labels such. Instance.

Renner, Schwander, Yamaha, Nordic or Malmsjo.

Plastic parts must not be present, everything should be made of wood!

The piano may not have the overhead MUTE!

It entails additional costs because the mechanics had to be dismantled before the tuning. 

Dont' buy (low / small pianos) because they lack the ability to be repaired and lack adjustment of the mechanics.

The gameplay!

When you play on the keyboard, does it feels good?

Do all the keys play?

Any mechanical errosr!

This means additional cost for repairs.
I also conduct professional inspections of the items you wish to buy or sell.